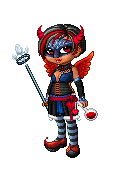 User Name:
Blazestorm
Profile: http://www.zantarni.com/profiles/?user=Blazestorm
Title: Queen of the Realm, Zantarni Owner, Manager and Head Administrator ~ July 2, 2010 - Present
Often Found In:
Blazestorm joined Zantarni on ???. She has been a regular member, a Knight, Senior Knight, Admin and is now finally the owner. She also started and maintains Zan Musings.